Long Exposure Photography Tips
Landscape photography is a diverse field, the development of HDR, photostacking techniques and the advancement of Photoshop's abilities have created a new field of photography. However, one key technique that cannot be simulated in Photoshop - the technique that must be accomplished in the field is the use of long exposure photography. Photographers of all levels can learn how to use long exposure, read on through this article to learn the principals and techniques to master this technique.
"Can my camera do long exposure photography?"
The answer is almost undoubtedly yes. If your camera has the ability to turn on manual, or M, mode then you are on the right track. The first step is to check your camera's abilities. I recently purchased a point/shoot camera for my girlfriend to travel with - even today's basic point/shoot models have an M mode giving the ability to turn the shutter speed down to 30 seconds or more.
If you aren't sure on the M mode, turn your camera to S mode and lower your shutter speed to the lowest (or longest) possible time allowed. Ideally for long exposure you want to shoot for a range of 30 seconds - 1 minute. If your camera only goes to 10 or 15 seconds, you can still work with this - but the longer the better.
The best possible option your camera can offer is a BULB mode. BULB mode allows you to hold the shutter open for as long as you need. The camera's shutter will remain open until you tell it to close.
Any DSLR on today's market has the ability to shoot long exposures, you may need to do a refresher in your manual to see where your mode is located within your settings. I can't answer every single camera model because I primarily shoot with Nikon/Sony - but if you want more specific help - contact me.
"When would I use long exposure?"
You can shoot long exposure on almost any scene...it works different effects for different scenes, depending on your desired outcome. I prefer to shoot long exposure with the following:
Seascapes (example above)
Waterfalls (see my Iceland gallery)
Creeks (larger rivers do not photograph as well)
You can use long exposure for additional scenes - if you are a city person you can use this technique to blur the traffic lines to get the long red lines from two way traffic that you may have seen with iconic shots of the Golden Gate bridge.
The general rule to follow with long exposure photography is this: You can be free to use long exposure for any scene that has movement in it, as long as the majority of the scene is stationary. In other words, you want a large portion of your scene to be tack sharp (no movement, i.e. buildings/rocks) with a purposeful blur in select areas (i.e. traffic lines, waterfall, waves).
The Steps to a Perfect Long Exposure Photo
[1] Start with a vision. Don't be fooled, I can never remember a single picture where I walked up...set up for a long exposure on a whim and came away with a great shot. You need a vision of your picture - how do you want it to look in the end? Without a clear vision you will end with a lost image.
[2] Ask yourself, where is the focus of my image? Your image needs a focus, this lines up with Step #1, clearly mark your focus of the image -- this becomes the centerpiece to build your photo around.
[3] Focus on your focus. Seems odd, but the key here is to focus your lens on the focus of your image. If you are an autofocus person - use it. If you prefer manual, use your Live View mode and dial in your focus as tight as possible - you cannot fix a poorly focused image later. Be 100% sure your focus is on point before moving ahead. If you decide to compose a new shot -- start over with this step. If you are working with a filter (will cover later in article), be sure to focus before putting on your filter. I like doing this because I have noticed cameras will often struggle if trying to focus properly with a dark 8-10 stop filter on the lens.
[4] Turn your camera back to manual focus mode. This is important -- AFTER you focus your shot, set your lens to manual focus. This will minimize any focus issues as you shoot away. I see this mistake occur far too often with newer photographers -- they focus in perfect, step back and click only to have their camera try and outsmart itself by refocusing. You can override this mistake with one simple step.
[5] Start with "S" mode and turn your shutter speed close to 30 seconds (or as close to this as you can). Starting in Shutter Speed mode will automatically adjust your f/stop to coordinate. This is not where I will stay, but it is a starting point you can use to see what your blur looks like at 30 seconds. Is the water washed out? Or the blur not long enough? This is where you experiment and adjust your shutter speed to give you the desired blur. 30 seconds is a good starting point for all long exposure photographs. The photo example above was shot at 30 seconds exposure. Be sure to make a not of what f/stop your camera is using for the 30 seconds exposure.
[6] Switch to "M" manual mode and dial in your settings. At this point I prefer to switch over to Manual mode for the most control of my photo. If you completed step 5 correctly you will have made note of your f/stop and can now tweak your settings to get the perfect image.
[7] Adjust for lighting. If your camera is not allowing you to shoot at a long enough exposure you have a few options to work with. First, drop your ISO to the lowest possible setting. (Lowest number). This will allow your camera to slow your shutter speed. Next, make sure your f/stop is working close to it's maximum. Finally, if these are still not enough to give you enough time - you can either WAIT for less natural light (later in the day/evening) or invest in a filter to block out light. If you are a daytime shooter invest in the LEE BIG STOPPER filter or a comparable 8-10 stop filter. This should give you the desired blockage of light.
[8] Control your highlights. One of the biggest issues you will run into with long exposure is overexposed or highlighted areas of a photo. The quick and easy fix for this is to use the black card technique. In a pinch you can also use your hand to do the same principal. Essentially, use the card to wave (literally) over the area of the photo that is overexposed. The trick is to not hold the card stagnant in one area. This requires some practice but will help control highlights.
[9] Edit in photoshop. My preferred technique is to shoot one single exposure using the black card technique, filters, and a combination of both. I don't like spending 4 hours on stacking 5-6 images working with exposures. However, every photo I take requires some level of photoshop editing. Invest in either Photoshop, Lightroom or an equivalent to give your photo a touch of color and a sharpening boost. And voila, thats it, Bob's your uncle.
Follow these 9 steps and you are well on your way to a perfect long exposure picture!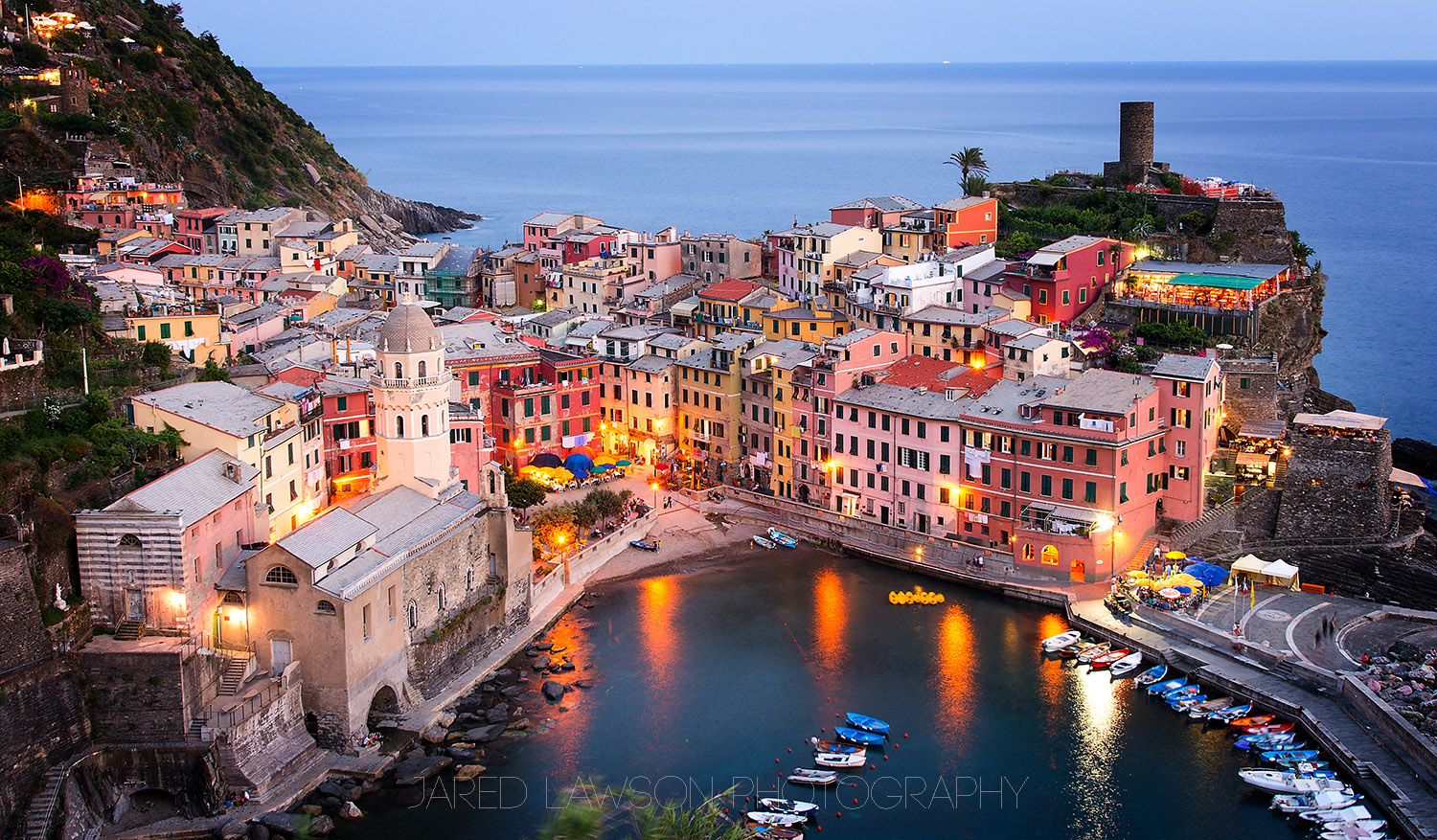 Traveling through Italy I was able to capture the country through my vision and my lens, focusing on the culture of Italy. These pictures of Italy are also featured through my photography tips section helping you take better pictures through my specific tips. My travel pictures highlight the experiences of Venice, Rome, Cinque Terre, Florence and Tuscany. The end result are a variety of gallery pictures that have been published in travel magazines and shown in art galleries.
Camera Equipment Required
Long exposure photography requires a base amount of camera equipment - most photographers already have in their bag. The main area of improvement is to understand your camera settings and how to switch between "S", "M" and "Bulb" modes and the advantage that each mode gives you as the photographer. While working a long exposure the critical piece that must exist is camera stability. This means your camera cannot move...AT ALL. Meaning: get a good tripod. Here is what I head into the field with in my camera bag for a long exposure planned shoot:
2. Landscape Lens (I shoot with my Nikon 14-24mm and my Nikon 85mm)
3. Tripod (I primarily use a Gitzo with a Really Right Stuff mount)
5. Lee Big Stopper (10 stop filter)
6. Singh-Ray Neutral ND Filter
7. Black Card (Free!)
You can start shooting long exposure without all of these pieces, you don't need the top lens or all available filters. But you should know that if you are planning on shooting a waterfall or seascape before dusk (low light) you will need filters to help block the light to give you a longer exposure.
That's it! Take these photography tips and get out and practice your digital photography this weekend! Find a local stream or waterfall and experiment with your camera settings!